About Oriental Rug Construction

Knotted, and Flat-Woven Rugs; Knot Types and Density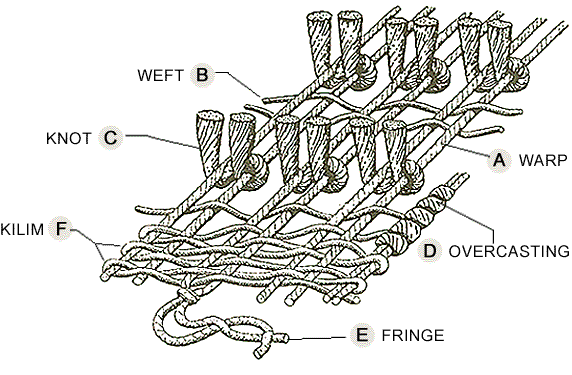 Anatomy of A Hand Knotted Rug
WARP - The parallel threads running through the entire length of the rug onto which the knots are tied.
WEFT - The threads running across the width of the rug inserted between all the rows of knots.
These threads pass through alternate warp threads. Their job is to secure the knots in parallel lines and to strengthen the fabric.
KNOT - The term used for a strand of wool yarn which is looped around two adjacent warp threads and then
cut to form the pile (surface of carpet).
OVERCASTING - A simple wrapping of dyed yarn along the entire length of both sides of a handmade rug.
FRINGE - The visible continuation of the warp threads at both ends of the carpet.
KILIM - The pileless web of warp and weft between the rug's pile and the knotted fringe. This is also
the name for a rug without pile.
Who Uses Which Knot?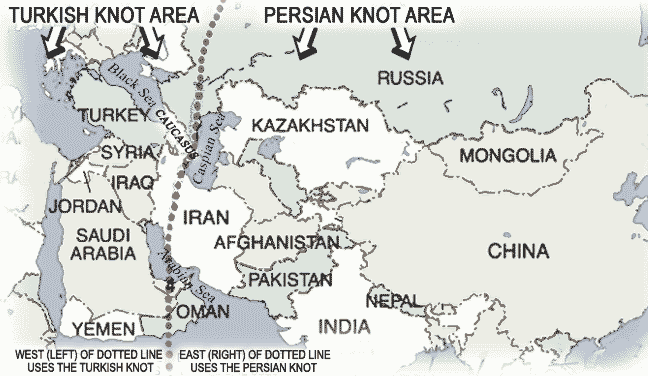 Line of division (dotted line): distinguishing Turkish Knot (west of line) and Persian Knot areas (east).
PERSIAN KNOT
WITH ALL OF THE WARP THREADS ON ONE LEVEL

TURKISH KNOT
WITH ALL OF THE WARP THREADS ON ONE LEVEL

Amazing But True!
Our rugs use the same methods & materials that have been used for thousands of years.
The average weaver ties more than 10,000 knots a day ... each one by hand.
A room size Oriental rug takes many months to make. Some oriental rugs have taken years to complete.
One good quality room size rug uses a flock of sheep for its wool.
FLAT-WOVEN RUGS



Flat-woven rugs have been made in many area for thousands of years. The designs come from the dyed wefts.
There are no knots and therefore no pile. They are generally less expensive and less durable than knotted rugs.
Flat-woven rugs are lightweight, easy to handle and normally reversible. A favorite of many decorators.
COMMON METHODS OF CHANGING COLORS

SLIT WEAVE WARP SHARING (DOVE TAILING) INTERLOCKING WEFTS



SOUMAK WEAVE FLAT-WEAVE CIRCLE FORMATION